The Wines
Our philosophy and personal challenge is to offer elegant and complex wines at the same time. Loaded with nuances, color, diversity combined with sweet, dense, and long on the palate attributes. The goal is to enjoy our wines, not leaving indifferent to whom it takes them, transmitting originality and identity from which they come and our way of understanding the wine. As for the vineyard, our philosophy of maximum respect for the product has driven us to decline filtration, clarification or stabilization by cold methods. Our purpose is to present our wines strong and natural as possible to the consumer.
Camino del Soto
White wine varieties Chardonnay and Sauvignon Blanc 50% from a hillside vineyard. Bright yellow-gold. Pungent aromas of yellow plum, honey and dried flowers. Fleshy, gently sweet pit fruit and melon flavors show good depth but a bit of warmth on the back half. Finishes smooth and broad, the peach note echoing.

Gardacho Garnacha Blanca
100% white garnacha. 24 hours cold maceration with the skins. Alcoholic fermentation in stainless steel at 12ºc. Two months ageing with the fine lies. A fresh and mineral wine.
La Cardelina
100% white garnacha. Femented and aged for 6 months in differents oak origins. Round, fresh and creamy. Really an original wine.
Gardacho
A single variety red Garnacha from vineyards aged between 60-80 years. A cheerful wine that owes its name to the lizard that used to climb the strains of our vineyards.

El Retorno
Red wine 100% Garnacha variety that comes from a mixed vineyard with olive trees. A fabulous nose of spring flowers, blue, red and blackfruits and wet rocks/gravel is followed by an elegant, mediun to full-bodied, fruit-laden, personality-filed wine.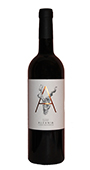 Alzania Syrah
The younger brother of Alzania 21 del 10. A varietal syrah, more fresh and young, bred 9 months in American oak 50% new and 50% of a year.

Alzania Finca La Moneda
The farm that surrounds the wine cellar. Its name comes from the Roman coin found many years ago while working the land. Assembling of Merlot, Syrah and Grenache, with aged in oak between 10 and 14 months.

Alzania Finca La Deuda
100% merlot from our vineyard in los arcos with a yield lower than 3,500 kg/ha. Aged 12 months in new french oak barrels. An elegant, rounded and fullbody wine.
Alzania 21 Del 10
Wine in tribute to the birth of our daughter Mary, the October 21, 2003. 100% Syrah was the first varietal of this grape in Navarre and remains a point of reference for such grapes in the peninsula. Grapes selected from hillside, on the floor with an abundance of gypsum (calcium sulfate). Bred 12-14 months in new French oak.